Bonded and insured, we're equipped to meet the highest standards for projects of all sizes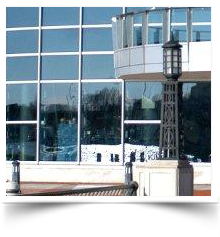 about usOver the past 20 years we have established ourselves as a competitive, midsized glazing contractor capable of starting and completing multistory projects worth more than $2 million.
Since 2000, we've held offices and an ample fabrication facility in Bridgeville, Delaware. This location enables us to produce fabricated window wall, curtain wall and storefronts to the highest standards, quality and customer satisfaction. We also have new offices in Bowie, Md.
Our project managers consistently complete projects on time and within budget. Our fabricators and installers are continually trained on proper installation and safety training.
Anco is the one you can count on every time! Call us at 301-262-2200 to discuss your next project.